Walk2COP27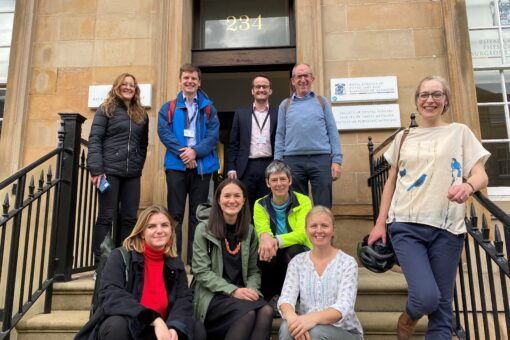 Walk2COP27 was a collaborative 45-day journey where participants tracked their distances walked, run, cycled or travelled in a wheelchair and interact with communities of like-minded people. Trees were planted for every kilometre travelled.
The 45-day virtual journey featured locally hosted townhall-hybrid meetings in the 12 countries between COP hosts Scotland (COP26) and Egypt (COP27), showcasing how climate change is impacting each location and the solutions that are being deployed. The 12 were: Scotland, England, France, Belgium, Germany, Austria, Hungary, Bulgaria, Turkey, Lebanon, Jordan and Egypt. People can join these gatherings online, or in person.
Participant-led discussions on climate action, spanning the four target outcomes of: decarbonisation; resilience; justice; and circularity, were hosted on the Clubhouse app between the townhall gatherings.
We were involved in the working group responsible for delivering the launch townhall event in Glasgow, which had a focus on health. The townhall included a panel discussion on climate change, health services and citizen health in Scotland. The townhall was followed by a 12km walk from the Royal College of Physicians and Surgeons of Glasgow to the Queen Elizabeth University Hospital via the Clyde walkway, passing the host venue for COP26.
In the final week of the journey, the voices of all participants will be recorded and synthesised into a proclamation for the COP27 attendees.