13th October 2022
Health leaders cycle to inspire action on air pollution and climate change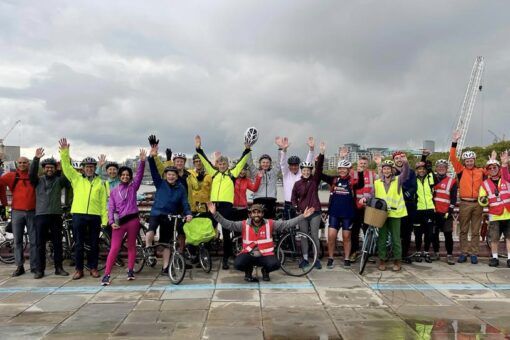 Today, thirty health leaders including Presidents, Vice Presidents, Chairs, Directors, and Advisors from a number of organisations are cycling across London as part of Ride for Their Lives, a global campaign to inspire action on air pollution and the wider climate crisis.
The London cycle, which has been coordinated by the UK Health Alliance on Climate Change, brings the health leaders representing different areas of healthcare together to highlight the impacts of air pollution and climate change on every area of health. The professions represented include medicine, surgery, psychiatry, paediatrics, general practice, pharmacy, chest and stroke physicians, students, and health editors.
Chair of the UK Health Alliance, Richard Smith, said: "The climate emergency is a health crisis. We want to draw attention to the threat to health from the planetary crisis but also to show that taking actions we need to take could improve health. Health professionals have an important voice in advocating for action to address the planetary crisis and we hope this cycle will inspire others to act."
The 15km cycle route will pass multiple health organisations and hospitals in London. After the cycle, the health leaders will join a panel discussion, facilitated by former British Medical Journal editor Fiona Godlee, at the Royal College of Physicians of London.
The cycle is part of Ride for Their Lives – a global campaign to protect children from the disastrous effects of air pollution and the climate crisis. Initiated and led by paediatric healthcare professionals, it aims to inspire action on these issues and unite the voice of the world healthcare community. In 2021, children's hospital staff and health sector leaders cycled from Geneva via London to UN Conference on Climate Change, COP26 in Glasgow, to deliver their message to world leaders. In the run-up to the COP27, this November, healthcare providers are organising a series of rides across the UK in London, Brighton, Oxford, Nottingham, Derby, and Newcastle – as well as in other European countries and in North and South America.
Dr. Fiona Godlee, former editor of the BMJ said: "We have to act urgently as a world to avert catastrophic consequences for human health and survival. This is going to require radical change to every aspect of how we live and work. Health professionals have a huge part to play in highlighting the dangers of the climate emergency and showing the benefits to health if we act now. We can only do this if we work together, and Ride for Their Lives is a symbol of that vital collaboration, both in the UK and across the world. We want to inspire people to get informed about climate change and to get active in whatever capacity they can, as individuals, professionals, leaders, and citizens. We can't expect others to act if we do not."
Professor Ramesh Arasaradnam, Academic Vice President of Royal College of Physicians, said:
"The Royal College of Physicians is proud to support UKHACC in its initiative to raise awareness of the impact of climate change on health. We have already seen the impact of air pollution on increasing the number of deaths. As physicians, we are acutely aware that adverse changes in the climate directly affect the health and well-being of our patients. It also further widens health disparities. Hence it is a problem that we all need to work at to find a solution".
Mehajabeen Farid, Co-Chair of Students for Global Health, said: "At Students for Global Health, we are very concerned about the devastating impacts of climate change, however, hope is our most powerful tool against the status quo, and taking part in an event like this helps me stay hopeful. It's really good to see people from different parts of the health community come together to bring light to the massive threat of climate change on health, which disproportionately impacts the most vulnerable communities, in the UK and around the world. We must continue to come together to take action for a better world for current and future generations."
Dr Adrian James, President of the Royal College of Psychiatrists, said: "The disruption to life posed by climate change presents a serious threat to mental health. Health is fundamentally linked to the quality of our environment, whether that's about cleaner air, access to green spaces or protection from extreme weather events. Storms, floods, air pollution, wildfires and droughts are causing dramatic changes to how and where people live, disproportionately affecting vulnerable groups including those with pre-existing mental illness and children.
"The impact of our actions today will be felt by generations to come. We must act now to stop further damage to the environment, reduce our carbon emissions, and prevent a global health catastrophe.
"Many of the actions we need to take, such as using sustainable transport, are good for the environment and have other beneficial effects, which is why I am so pleased to be taking part in the cycle ride."
Anna Russell, Corporate Responsibility & Sustainability Director at Bupa, a long-term sponsor, said: "These rides do so much good by raising awareness of the climate crisis. As a healthcare company, we have a responsibility to act now to tackle this crisis. That's why at Bupa, we have made it part of our mission to minimise the impact of healthcare on the planet, find more sustainable healthcare solutions, and in doing so, help people live longer, healthier, happier lives, and make a better world."
Ride for Their Lives is calling on health providers and organisations to sign the Healthy Climate Prescription letter, and support the call for a Fossil Fuel Non-Proliferation Treaty – both call on governments to deliver on climate action.
On October 18, healthcare organisations set off on a two-week ride to take the letter and call for the treaty from Geneva, through Italy to Naples, connecting hospitals along the way to deliver their messages to COP27 in Egypt.