5th September 2023
Nature by 2030: Annual report shows alarming lack of progress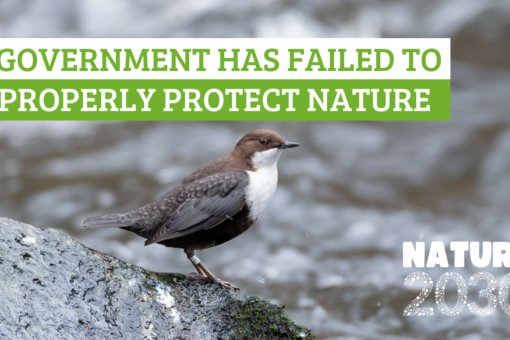 The 30×30 Progress Report published today by the Wildlife and Countryside Link shows an alarming lack of progress in protecting and restoring the state of nature in the UK.
This is despite the legal duty outlined in the Environment Act 2021 to stop and restore biodiversity and natural habitats and the UK being a cosignatory to the COP15 Kunming-Montreal Global Biodiversity Framework to protect 30% of land and oceans for nature by 2030 globally.
The UK is one of the most nature-depleted countries in the world and its natural ecosystem continues to face further threats from significant fossil fuel dependence and animal-intensive agricultural practices along with high levels of air and water pollution.
The 30×30 progress report shows that only 3.11% of England's land and less than 8% of England's sea are effectively protected for nature and that nature in protected areas is in no better condition, and sometimes even in worse condition than nature in unprotected regions. The case was the same with protected rivers, with less than 1 in 5 in favourable conditions.
With less than seven years remaining to reach the 30% target by 2030, the chances of success look grim if the government does not rapidly scale up effective and adequate action; such as incorporating a 'Protected Landscapes Amendment' as part of the Levelling Up and Regeneration Bill which is being debated in the parliament. Not doing this would be a missed opportunity.
While the UK has demonstrated good leadership by being one of the only two countries (the other being Canada) to contribute to the Global Biodiversity Framework Fund, launched last month, to support the implementation of the objectives set at COP15 in 2022, a lot more still needs to be done.
The national 2030 targets will be missed if the government does not accelerate the delivery of its promises. There is more and more evidence being generated every day about how green spaces with thriving wildlife help improve mental and physical health, prevent overheating in urban spaces, improve air quality and promote active travel. The current government and the next one need to keep nature recovery at the top of their priority list.
To reach 30×30, we want to see:
Double the wildlife-friendly farming budget to £6 billion to ensure ambitious farm improvements and large-scale nature restoration
Make polluters pay for nature restoration by placing a Nature Recovery Obligation in law
Create green jobs on a large scale through a National Nature Service to deliver wide-scale habitat restoration
Increase protection and funding for wildlife sites through a 30×30 rapid delivery programme and creating a Public Nature Estate
Legislate a new law guaranteeing the right to a healthy environment that would establish a human right to clean air and water and access to nature.
The UK Health Alliance on Climate Change is partnering with Wildlife and Countryside Link, the largest environment and wildlife coalition in England, and a number of other groups in calling for these actions. The Nature 2030 coalition is also urging members of the public to add their names to this open letter which calls on political parties to commit to more radical nature plans.