9th October 2023
Three years on – clinical staff continue to lead and inspire us as we build a greenerNHS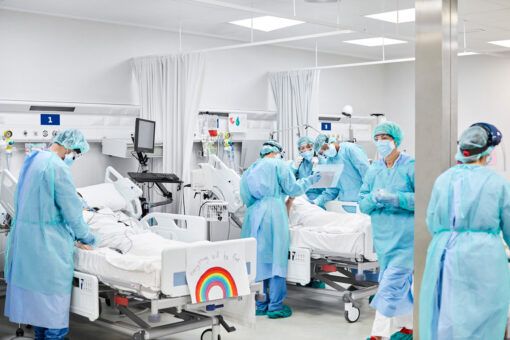 In my first months as Acting Chief Sustainability Officer, one thing has become abundantly clear: our clinical staff are key in our efforts to reach our net zero goal.
Climate change is not just an environmental challenge; it's a health emergency that demands our urgent attention and concerted efforts. As the NHS takes bold strides towards achieving net zero, the first Net Zero Clinical Care Conference has taken shape, a collaborative effort between The BMJ and UK Health Alliance on Climate Change (UKHACC).
This one-day hybrid conference is not just another event on the calendar. It is a rallying call to healthcare professionals, policymakers, and stakeholders to unite in the pursuit of sustainable clinical care. The conference, set to attract over 300 attendees in person and countless more online, is more than a forum—it's a platform for action. I am pleased to be able to join them at this event that is the first of its kind, and certainly won't be the last.

Our NHS staff and teams are committed to reducing the carbon impact of clinical services at every level of the UK healthcare system, and we recognise the power and influence that each healthcare professional holds in helping us to build a greener NHS for the good of health, now and for future generations. Up and down the country the work of our clinical colleagues is already delivering carbon and cost savings while continuing to provide high quality care.
Last year, a team at Solihull Hospital performed the world's first net zero carbon operation. By making changes to their standard practice this groundbreaking surgical team reduced the carbon output by almost 80% (equivalent to a diesel car travelling around 5500 miles), with no impact on the outcome for their patient.
Kirkholt Medical Centre in Rochdale, is just one of many GP surgeries that has worked with patients to improve asthma care and reduce the carbon footprint of prescribed inhalers. Many patients have reported improved symptom control after their asthma review and have been happy to have an inhaler that works for them and reduces their environmental impact.
Our Allied Health Professionals are pioneering project after project to support their patients while reducing their impact on the environment. These include introducing electric vehicles within an urgent community response service, increasing walking aid return and reuse, and delivering music therapy sessions remotely for those with respiratory conditions – to prevent ill health, reduce social isolation and improve levels of happiness and wellbeing.
Outside of the NHS we are also seeing our partners and colleagues working hard to support clinical staff in this space. Earlier this year, The Royal College of Emergency Medicine launched GreenED – an initiative to measure and reduce the environmental impact of Emergency Departments and drive environmentally sustainable practices.
And just last month, the Health and Care Professions Council (HCPC) has published a Sustainability Statement, setting out its commitments to becoming an environmentally sustainable regulator and the actions it plans to take in support of these commitments.
With so much incredible work going on, the Net Zero Clinical Care Conference promises a day of stimulating discussions and empowerment, and is designed to foster networking, spread learning, and inspire change. The heart of the event lies in acknowledging the pivotal role clinical staff play in this transformative journey. Those involved in the design, development, and delivery of clinical care pathways are truly helping us foster real progress towards net zero clinical care.
Accompanying the conference is an exhibition of case studies—a visual testament to the innovative changes emerging across the sector. It's a showcase of the tangible efforts and strides towards a net zero NHS that are already happening. From groundbreaking research to practical solutions, these posters will serve as inspiration and catalysts for further change.
This month we have marked three years since the NHS become the first health care system in the world to commit to reaching net zero. This event stands as another a milestone on our journey towards a sustainable future for healthcare. The decisions we make today, the strategies we formulate, and the actions we take will shape the health of our patients and our communities.