18th May 2023
UKHACC Bulletin May 2023
The voice of health professionals has not been put to full use within the climate movement. And yet, this highly trusted voice has a long history of influencing culture, politics and society for the better. The untapped asset of the health voice represents a huge missed opportunity to shift public and policymaker understanding of the threat to human health and survival, and the urgent need for change. Last week, the UK Health Alliance on Climate Change launched a pilot project to demonstrate the impact and effectiveness of health professionals as advocates for climate change. A group of 15 health professionals working across all different areas of healthcare came together for two days of training to learn the tools and techniques to be powerful advocates for change. We hope this initial step will lead to greater opportunities to train more health professionals and grow our trusted network of passionate health voices highlighting why urgent action is needed.
News and Updates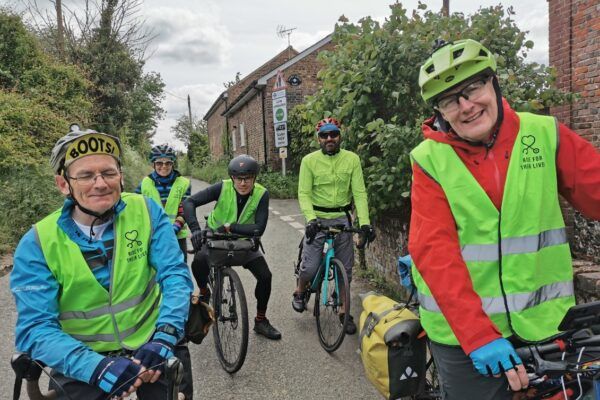 ULEZ Ride for Their Lives
On 13-15 May, a group of health professionals cycled 250km around the expanded border of London's Ultra Low Emission Zone (ULEZ) to raise awareness of the impacts of air pollution. The riders are backing the Clean Air Wins campaign, which has a mission to reduce air pollution across London, protect the city's most vulnerable communities, and make sure all Londoners can breathe clean air.
Health Secretary urged to support ULEZ expansion
Last week, the UK Health Alliance on Climate Change wrote to the Secretary of State for Health and Social Care to call on his support for the expansion of London's Ultra Low Emission Zone. The letter highlights the ruling of the coroner on Ella Adoo Kissi Debrah's death, which called on action from national government to tackle air pollution.
Planetary Health Report Card
The 2023 PHRC has been published. The report card assessed 96 medical schools around the world on a number of measures: Planetary health curriculum, interdisciplinary research in health and environment, community outreach and advocacy, and support for student-led planetary health initiatives. Download the report here.
____________________
Get involved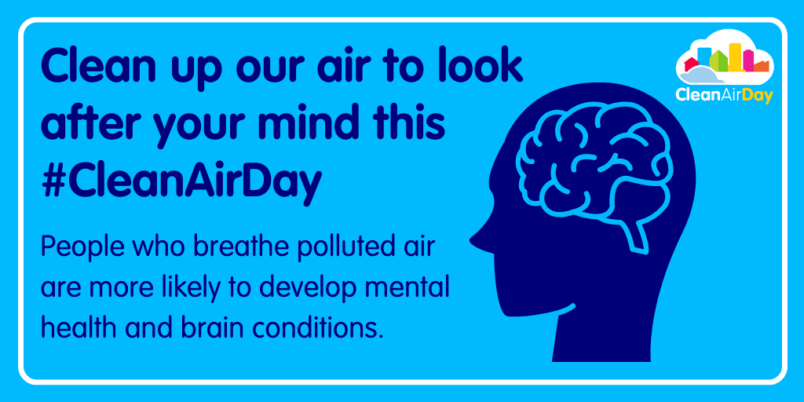 Clean Air Day 2023
The UK's largest air pollution campaign takes place on Thursday 15 June 2023. The theme is: "Clean up our air to look after your mind this #CleanAirDay". Lots of information and suggestions of ways to get involved are available on the Clean Air Hub. You can also download resources, social media toolkits and content to support your own campaigns.
HCPC consultation on standards of conduct, performance and ethics
The Health and Care Professions Council (HCPC) which regulates 13 of the 14 allied health professional groups, has opened a formal consultation on Reviewing the standards of conduct, performance and ethics. An additional theme of sustainability in health and care has been proposed and will be discussed as part of the consultation process at a workshop on 22 May. Details, including how to register, are available here.
Want to reduce waste in health and care?
The health and social care system in Wales is developing innovative ways to use all available resources more efficiently and to reduce waste. The Bevan Commission has established the Let's Not Waste network to provide a focus and concerted effort to achieving demonstrable reduction in waste. The network will be a national platform to share ideas, good practice, and collaborate and developing waste reduction solutions. Individuals and organisations interested in getting involved can sign up here.
Academic Health Institutions' Declaration on Planetary Health
Academic health institutions are asked to declare that the health of the planet is a code red emergency and call for the immediate implementation of planetary health education and research, and the transition to climate-resilient health systems in order to build a healthy, sustainable, and just future for all. Find out more here.
____________________
Events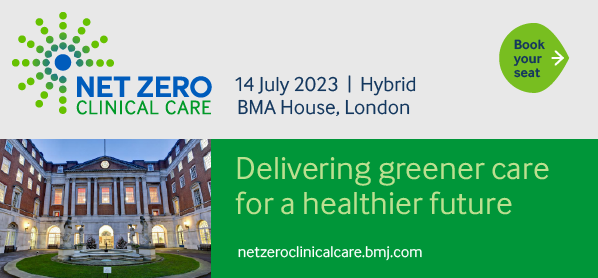 14 July 2023 | BMA House, London and Online [Hybrid event]
Net Zero Clinical Care Conference
Following a huge demand for this event, we are delighted to announce that you can now choose to attend virtually via a live feed, or add your name to a waiting list to attend in person. The conference, which is jointly organised by BMJ and UKHACC, will highlight how health and care professionals can help improve the NHS in achieving its net zero target while also improving the quality of patient care. Sign up here.
IN CONVERSATION LUNCHTIME SESSIONS
A number of sessions are open for registration in our popular lunchtime sessions. These events are held online from 12.00-13.30 on the dates indicated below. Sessions involve presentations by leading experts followed by a panel discussion and Q&A.
Protecting our ocean for all our health | Online 8 June 2023
On World Ocean Day 2023, we bring together health professionals to highlight the importance of our oceans and nature for health. Click here to register Topics and speakers include:
Recommendations for ocean and nature from COP15. Dr Georgina Sowman, Co-Founder Healthcare Ocean
Eco-directed sustainable prescribing; reducing ocean pollution from pharmaceuticals. Dr Sharon Pfleger, Founder One Health Breakthrough Partnership
Human healthcare and the ocean. Dr Richard Hixson, Co-Founder Healthcare Ocean
Clean air: At all times | Recorded on 17 May 2023
Air pollution causes harm from cradle to grave. In this webinar, our expert panel looked at evidence on woodburning, the role of hospitals in improving air quality, and why clean air zones work. Watch the recording of the session and access the presentation slides from the webinar here.
Let's Active Travel: Benefits to health and planetary health | Recorded on 27 April 2023
Active travel is good for mental, physical and planetary health. The transition from environments dominated by motorised vehicles that are often not safe for walking and cycling, to urban landscapes that enable people to walk and cycle, can also bring socioeconomic advantages such as reducing inequalities and empowering women, the elderly, and children. View the recording and access the presentation slides of this webinar here.
EXTERNAL EVENTS
20 May 2023 | People's Health Tribunal of Shell & Total in Africa
Join this event online or join one of the community screenings taking place across the world to hear testimonies from communities directly affected by fossil fuel extraction. The event will raise awareness of the struggles across the continent, share learning and build solidarity to deliver a verdict centred on deep reparative justice. Register to join the tribunal and find out more here.
9-10 September 2023 | VegMed London 2023 | Imperial College, London
VegMed London 2023 is a collaboration between Plant-Based Health Professionals UK and PAN International – Physicians Association for Nutrition, and supported by ProVeg International, with the overarching theme of 'Bringing plant-based nutrition into healthcare'. The conference will bring together health professionals, scientists, researchers and policy makers committed to supporting the transition to a plant-based food system. Click here for more information and to book your tickets.
____________________
New resources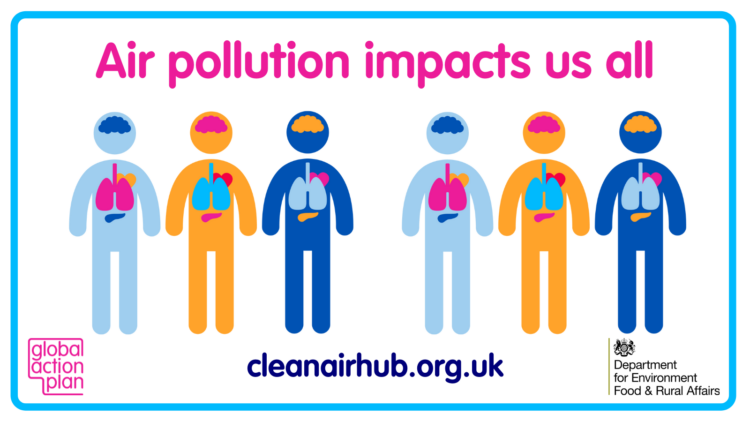 Insights report: Educating primary care health professionals for action on air pollution
The final report of Global Action Plan, produced in collaboration with UKHACC, has been published along with the primary care air pollution protocol. The project successfully demonstrated that GPs are effective emissaries for information on air pollution, including patient groups vulnerable to the health harms of air pollution. Download the report.
Putting the brakes on toxic air
A new policy report by Asthma+Lung UK sets out a transport plan for a greener, fairer future, and calls on government to roll out the Cleaner Active Travel Fund. Find out more here.
The wellbeing toolkit for doctors
The demands of being a health professional, a family member, and a climate activist can be stressful and hard to navigate. Based on stories from the life of a GP, the 'Wellbeing Toolkit for Doctors' outlines ways to look after ourselves in order to stay effective.
____________________
Reports, articles and videos
We've pulled together a list of recent reports, articles and videos worth reading, watching and sharing.
____________________
Please share
Please feel free to forward this newsletter to anyone you think might be interested. Anyone can sign up to receive this newsletter by clicking this link: https://action.ukhealthalliance.org/page/69209/subscribe/1
If you've got information about resources, campaigns, or events you would like to be included in the next edition, please send them to anandita.pattnaik@ukhealthalliance.org . The next bulletin will be published on 16 June 2023.