26th April 2023
Clean Air Wins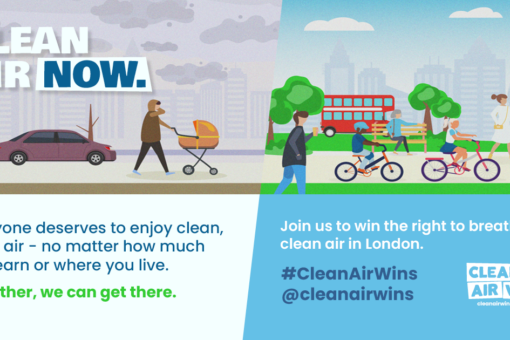 The Clean Air Wins campaign is focused on building a network of individuals who share a commitment to social and environmental justice to spread awareness, get involved and advocate for policies that support clean air. Supporters will be provided with training, become part of the network, and be motivated by the opportunity to make a difference in their community.
Air pollution is among the greatest environmental determinants of health and contributes to many serious and chronic health conditions affecting every organ of the body. People living in areas of deprivation have a significantly higher risk of exposure to both indoor and outdoor pollution that increases the risk of childhood and adult asthma, cardiovascular diseases, dementia, cancer, and hospital admissions. Health workers are seeing the impacts first hand and say that if the issue is not urgently addressed, we face decades more of health conditions linked to breathing polluted air, with poorer outcomes for people and increasing strain on the health service.
Clean air is a human right. Previously, we have called on the UK government to support the Clean Air (Human Rights) Bill to embed the right to clean air into UK legislation. We have also called on health professionals to speak up about clean air in London and other cities. The planned expansion of the Ultra Low Emission Zone (ULEZ) in London, for example, will improve health through reducing air pollution and greenhouse gas emissions, while also encouraging walking, cycling and use of public transport. This matters most for London, but also for other cities across the UK and the world introducing or planning to introduce ULEZs.
Clean Air Wins is supported by C40 Cities, a global network of cities united in action to confront the climate crisis, and the UK Healthy Air Coalition, a collective of leading health, environment and transport organisations with the shared vision of a UK free from toxic air.