11th October 2023
Twelve Cs for getting health systems to net zero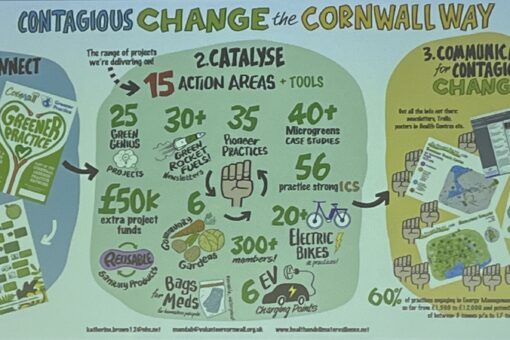 The NHS in England is committed to getting to carbon net-zero by 2040 on all that it directly controls and by 2045 on all that it procures and consumes. Other health systems are making similar commitments, and all health systems, just like everything else, will have to get to net-zero if we are to avoid a climate and nature catastrophe. Much research and innovation will be needed, and a meeting held yesterday at BMA House heard lots of evidence on research and innovation for the clinical work of the NHS to reach net-zero. I prowled the meeting and have tried to summarise some of the lessons in 12 Cs.
There is great interest in how to get health systems to net zero. Over a hundred (134) abstracts were submitted for the conference. The hall could hold 300 people, and there was a waiting list for people to attend in person. In addition some 2000 people applied to watch online.
Clinical change
Clinical activity and clinical decisions account for most of the carbon footprint of health systems. Many hospitals started on reducing their carbon footprint by changing their energy supplier, heating systems, buildings, and lightbulbs, but such changes are far from being enough. Clinical activity is more complex to change, but change it must— mostly in ways that can improve patient health and care.
Capacity
Many of the projects presented at the conference were undertaken by clinicians and others in addition to their day jobs. One of the main messages that emerged was that this is not sustainable. If the NHS is to reach net zero people will have to be given paid time to work on the changes needed. We heard about hybrid posts, where clinicians spend some of their time working clinically and some on making the changes needed.
Collaboration
Probably the main value of the conference will in the long term be encounters among people and the collaborations that will result. Many pioneers have been working almost alone, but great power comes from collaboration, not least because much has already been learnt and can be shared. Collaboration also increases energy and commitment. The conference heard how students, GP trainees, public health registrars, general practices, nephrologists, and others have formed collaborations.
One particularly important collaboration may be underused, collaboration with patients. We heard an account of an improvement project that led to patients with HIV having a viral load test every year rather than every six months. Nurses at first resisted the change, saying that patients liked to see them every six months and felt safer as a result. Patients, however, preferred to be seen annually, and the result was a saving in carbon, cost, and time. The nurses benefited from the saving in workload and were able to use the time constructively. Collaboration with patients will be essential for getting health systems to net zero because they should be driving, at the least understanding, changes that will have to be made.
We also heard about collaborations between clinicians and academics, which worked well for both with academics concentrating their research on issues that mattered to the clinicians.
Community
The NHS cannot be saved or get to net zero without much more working with communities. The service has tended to proceed without working closely with communities, which have great power both to promote health and support people when sick. The conference heard of the ten-year working together of the community and health service in Frome, Somerset https://relationshipsproject.org/project/frome/ One result has been the lowest prescribing rates in the South West Region, which means lower carbon consumption and lower costs.
Connectivity
Connectivity with others working on climate change is important, but even more important is to recognise the importance of relationships—with patients, colleagues, and others. As the designer Hilary Cottam says, "Relationships—the simple human bonds between us—are the foundation of good lives [health]." After describing how William Beveridge designed relationships out of the NHS, Cottam argues in her book Radical Help: How we can remake the relationships between us and revolutionise the welfare state for a rediscovery of the importance of relationships. https://blogs.bmj.com/bmj/2021/04/06/richard-smith-time-for-a-radical-pivot-in-the-welfare-state-including-the-nhs/ Such a rediscovery will be essential for reaching net zero.
Compassion
Compassion for patients, colleagues, and others has to be at the heart of health systems but is often under strain in a struggling NHS. Without compassion, nothing.
Complexity
The NHS and other health systems are extremely complex and are tending to become more complex every day. This complexity must be recognised and navigated in order to understand how to reach net zero.
Cost
Like other health systems, the NHS is experiencing great financial pressure, which is unlikely to change and probably become worse. Money will have to be spent to reach net zero, particularly on capital projects, but the conference was told that improvement projects that increased cost would be most unlikely to proceed. But carbon and cost go together, so projects that reduce carbon will also produce cost—and often improve care.
We heard of a project in a hospital to reduce the use of nitrous oxide, an anaesthetic gas that is 300 times worse than carbon dioxide for global warming. The hospital was spending £500 000 a year on canisters of the gas, but, unknown to those procuring it, hardly any of it was being used. A young anaesthetist worked out that a few small canisters costing around £500 a year would be enough. There is now a collaboration to reduce the use of nitrous oxide, and it could probably be phased out altogether.
Another project involved improving the prescribing of drugs to frail elderly people, most of whom were prescribed many drugs but were often not taking them as prescribed. We know that drugs account for around a quarter of the footprint, and we also know that about half are not taken as prescribed, with many of the unused drugs ending up in landfill and the rivers and oceans. There is huge room for improvements in care and savings in carbon and cost.
Contagion
Famously, innovations take decades to spread through health systems, but we don't have that time to spare to reach net zero. Innovations, ideas, and costs must be contagious and spread rapidly.
Courage
Courage is needed to get the NHS to net-zero. One GP trainee described how when she talks to groups of other trainee GPs she finds despair, sadness, and a sense of being doomed. Courage is needed to get beyond that fatalism and act—and action, no matter how small, is the best thing for feeling better about the world.
Courage is also needed to act rather than ask permission. This came up several times. If the action is successful then nobody will complain, and if the action fails or creates difficulties simply apologise.
Creativity
New ideas and new ways of doing things, which means putting a high value on creativity. The conference heard of many creative ideas, and one that involved many of them and was developed by the Centre for Sustainable Health, https://sustainablehealthcare.org.uk/ a world leader in decarbonising clinical care, is SUSQI, incorporating sustainability into quality improvement. https://sustainablehealthcare.org.uk/susqi Quality improvement is now a fundamental part of clinical care and incorporating sustainability is a way of making sustainability everybody's business.
Cornwall
My last C is for a group from Cornwall who have used almost all the Cs above, particularly courage, to create the best party in Cornwall that everybody wants to join. https://www.volunteercornwall.org.uk/climate-action-plan
The BMJ will be producing a report on the conference that will be available to all. The e-posters will also be available online, and there may be a follow-up webinar. The hope is that the conference will grow and become an annual event. https://netzeroclinicalcare.bmj.com/
Competing interest: RS is the unpaid chair of UKHACC, one of the sponsors of the conference, and he chaired the final session. He cycled to and from the conference and forgot to eat lunch, so his carbon footprint will be low, although some argue that the carbon footprint of the food burnt to provide the energy for cycling may be higher than his share of the carbon footprint of bus or tube journeys.